Hunter S. Thompson Writes a Blistering, Over-the-Top Letter to Anthony Burgess (1973) – @Open Culture
28 de Maio, 2016
Fonte: Open Culture
We know Anthony Burgess for having written A Clockwork Orange, but in total, according to Shaun Usher's More Letters of Note: Correspondence Deserving of a Wider Audience (a book based on the well-known blog), he "published 33 novels, 25 nonfiction titles, produced poetry, short stories and screenplays, composed three symphonies, wrote hundreds of musical pieces, and spoke nine languages fluently." Yet even such a "prolific, versatile, and highly intelligent" man of letters faces writer's block now and again.
Take the Rolling Stone thinkpiece Burgess couldn't manage to write in 1973. Conceding defeat — "things are hell here," he wrote of his life in Rome at the time — he offered the magazine "a 50,000-word novella I've just finished, all about the condition humaine, etc." in its place. Surely his editor would understand? Alas, unluckily for Burgess, his editor turned out to be one Hunter S. Thompson, who fired back the characteristically blunt but eloquently vitriolic reply you see here: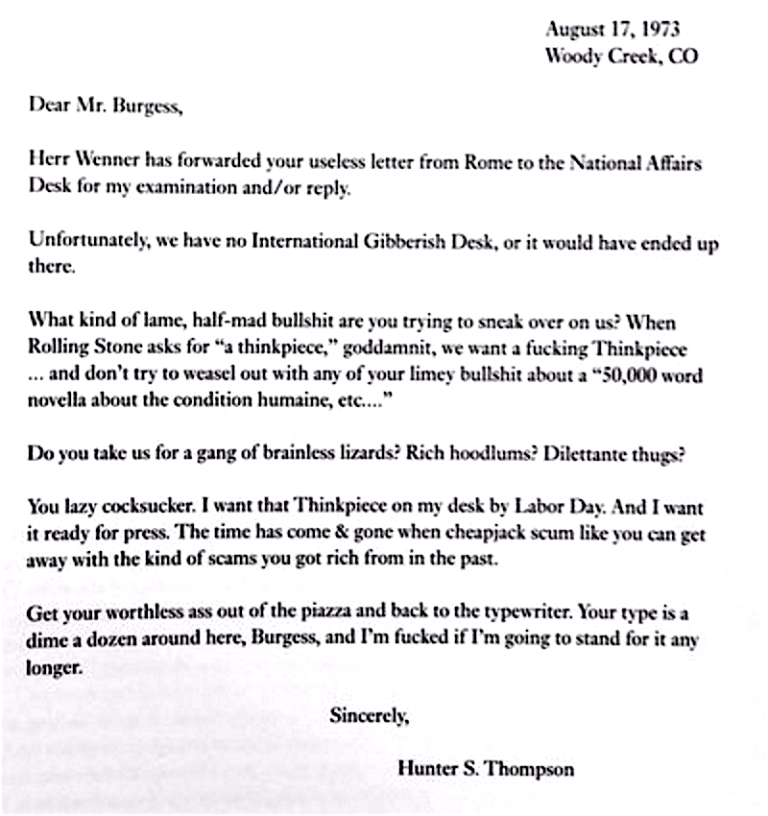 "The desired thinkpiece never appeared in the pages of Rolling Stone," writes the International Anthony Burgess Foundation's Graham Foster, "but the essay referred to in these letters, 'The Clockwork Condition', was eventually published in the New Yorker in 2012." In it, Burgess recalls the origins of his best-known novel and considers the causes of the societal conformity he took as one of his themes, arriving at the Orwellian notion that "the burden of making one's own choices is, for many people, intolerable. To be tied to the necessity of deciding for oneself is to be a slave to one's will."
That goes for "where to eat, whom to vote for, what to wear" — and, of course, for what to write a thinkpiece about as well as how to write it. "It is easier to be told," Burgess writes. "Smoke Hale — ninety per cent less tar; read this novel, seventy-five weeks on the best-seller list; don't see that movie, it's artsy-shmartsy." He even remembers, with a certain fondness, his time in the army: "At first I resented the discipline, the removal of even minimal liberty," but "soon my reduction to a piece of clockwork began to please me, soothe me." Fair to say, though, that no matter how demanding the officers above him, the experience didn't prepare Burgess for a superior like Thompson.
via More Letters of Note and Esquire
Considera, por favor fazer um donativo ao Artes & contextos.
Ajuda-nos a manter viva e disponível a todos esta biblioteca.
O artigo: Hunter S. Thompson Writes a Blistering, Over-the-Top Letter to Anthony Burgess (1973), foi publicado em: Open Culture
The post: Hunter S. Thompson Writes a Blistering, Over-the-Top Letter to Anthony Burgess (1973), was published at: Open Culture
Como classificas este artigo?
Assinados por Artes & contextos, são artigos originais de outras publicações e autores, devidamente identificadas e (se existente) link para o artigo original.