A History of Alternative Music Brilliantly Mapped Out on a Transistor Radio Circuit Board: 300 Punk, Alt & Indie Artists
10 de Maio, 2017
Lumping millions—billions!—of people together arbitrarily by their birthdates sounds ridiculous in the abstract. But when we lump together generations with clusters of pop cultural references, it always seems to give the concept flesh. A certain cohort around the world—ye olde Generation X (though fewer and fewer people probably know where that comes from)—can measure their common sensibilities by a constellation of musical references dating back to the late sixties and forward to the early oughts (whereby the runts of the bunch finally got around to having kids and mostly stopped leaving the house after dinner).
But instead of a constellation for the web of connections that somehow joins Ryan Adams, The Specials, and Suicide, the graphic above (view it in a larger zoomable format here) takes as its source the circuit diagram for the first commercial transistor radio from 1954, and well… "Well Done," is all I can say. Designer James Quail began "Alternative Love," as it's called, with the Sex Pistols, then worked his way back to David Bowie, the MC5, the Stooges, and the Velvet Underground and forward to The Strokes, Radiohead, the Arctic Monkeys, and Arcade Fire.
These lineages seem fairly obvious, as does the progression from the Ramones through the Smiths in the four large circles in the center, which drive powerful currents to the disparate likes of Nirvana, Depeche Mode, Shellac, the Human League, and Can. Does it work historically? Not exactly, but that's hardly the point.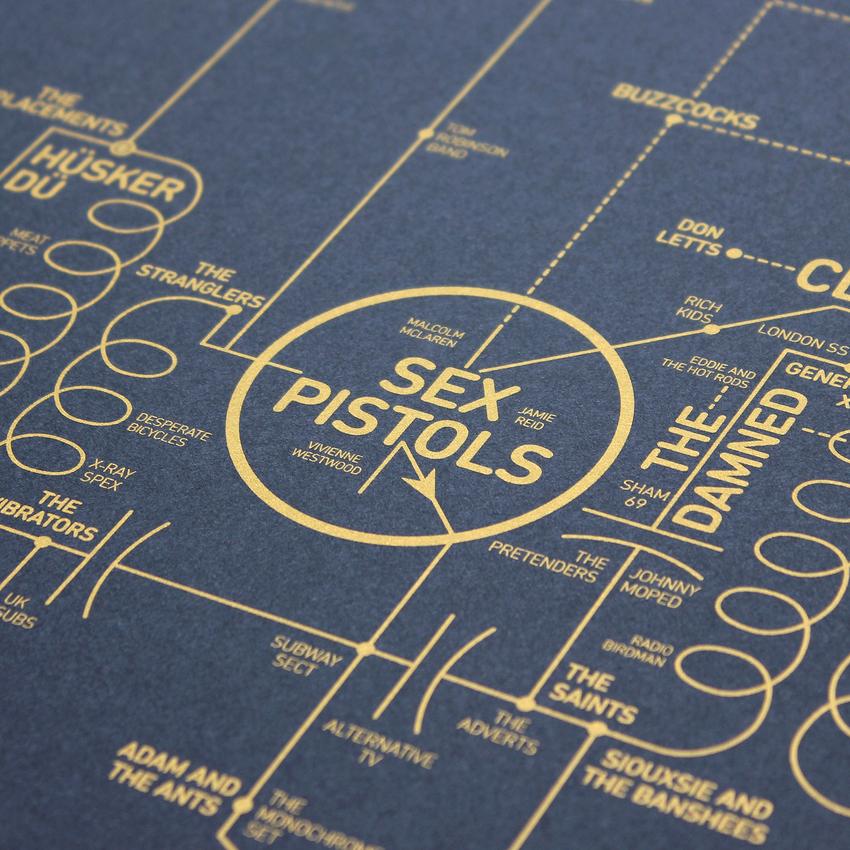 Quail's "charted history of counter-culture rock music," writes Margaret Rhodes at Wired, "spills out… not in any kind of linear board game way." It started with a rumor—that the audience of the Sex Pistols' June 4, 1976 show at the Lesser Free Trade Hall in Manchester "included guys who would go on to start bands like The Smiths, Joy Division, and the Buzzcocks." It might as well have jumped off from Brian Eno's famous quote about everyone who bought the Velvet Underground's debut album starting their own band. What matters here is that it works: exploring the number of intricate connections between these bands with more breadth and immediacy than most alternative culture histories.
While Rhodes compares it to a streaming service that uses "musical connections to identify listening recommendations," there's much more going on here than Pandora's algorithms might manage. You'll find the garage rock revivalism of Thee Oh Sees, The White Stripes, and Ty Segall pop up on your internet radio, but most machine intelligences wouldn't link them so neatly, as Quail does, with seminal, if obscure, acts like Billy Childish's 90s band Thee Headcoats or 60s garage rockers The Sonics. Dorothy, the design house responsible for "Alternative Love," allows you to zoom in on every part of the diagram to find little clusters of jangle pop, shoegaze, post-punk, grunge, synth pop, Britpop, hardcore, and neo-psych.
Considera, por favor fazer um donativo ao Artes & contextos.
Ajuda-nos a manter viva e disponível a todos esta biblioteca.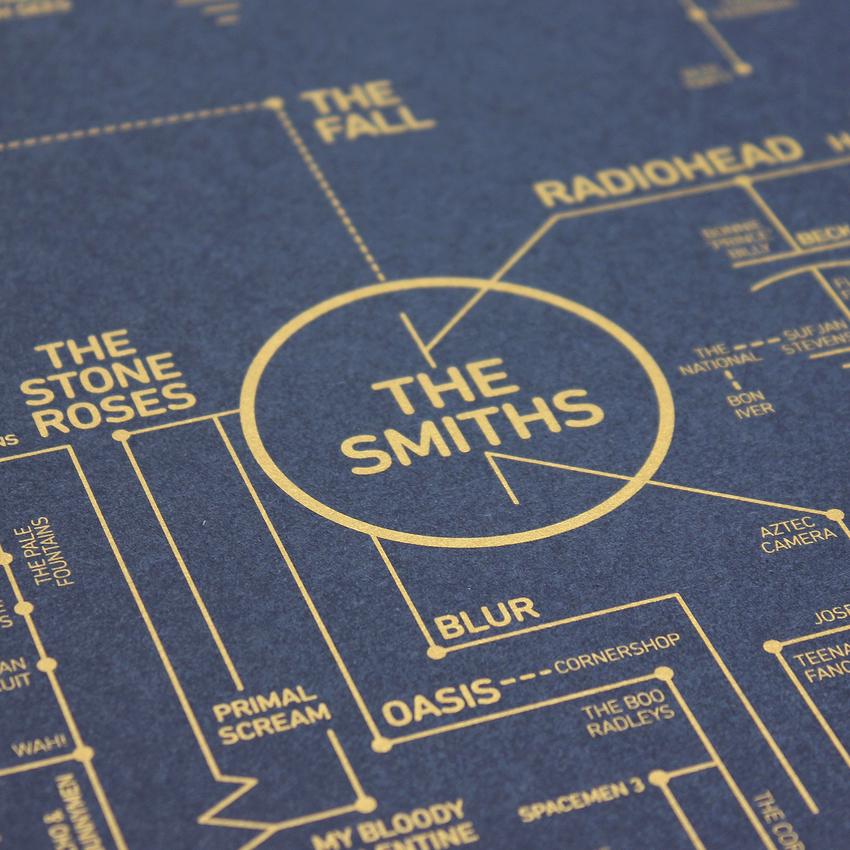 The blueprint, Dorothy explains, "celebrates over 300 musicians, artists, managers and producers who (in our opinion) have been pivotal to the evolution of the alternative and independent music scene." You can buy the blueprint as a poster ($45), and it will make a brilliant gift for the middle-aged music nerd in your life, as does an earlier diagram, "Electric Love," which traces the development of electronic music from Thomas Edison to Nine Inch Nails, using—what else?—the schematic of a Theremin.
O Artigo: A History of Alternative Music Brilliantly Mapped Out on a Transistor Radio Circuit Board: 300 Punk, Alt & Indie Artists, foi publicado em Open Culture
The Post: A History of Alternative Music Brilliantly Mapped Out on a Transistor Radio Circuit Board: 300 Punk, Alt & Indie Artists, appeared first on Open Culture
Como classificas este artigo?
Assinados por Artes & contextos, são artigos originais de outras publicações e autores, devidamente identificadas e (se existente) link para o artigo original.