Classic Songs by Bob Dylan Re-Imagined as Pulp Fiction Book Covers: "Like a Rolling Stone," "A Hard Rain's A-Gonna Fall" & More
21 de setembro, 2018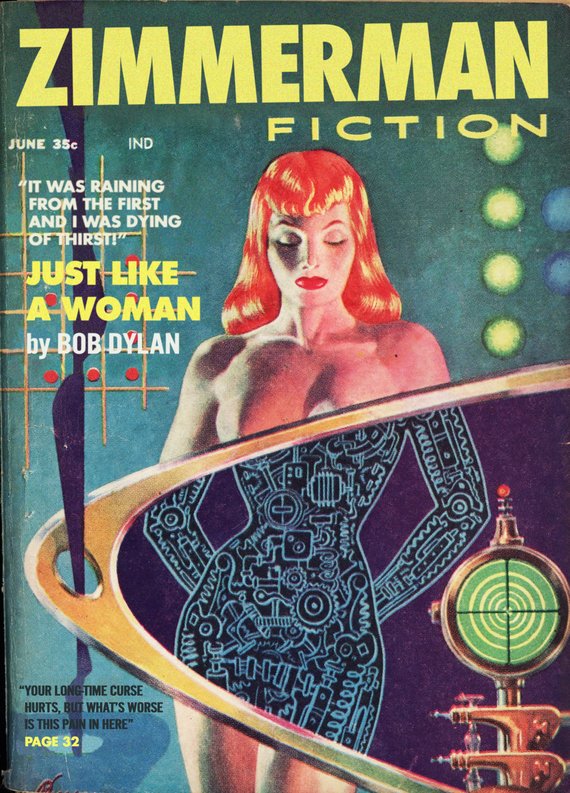 Screenwriter Todd Alcott has been very busy since we introduced you to his hilarious Mid-Century Pulp Fiction Cover project last month.
To restate what should be obvious from the second, if not first glance, none of Alcott's titles are real. His aesthetically convincing mock-ups pay tribute to favorite songs by favorite artists: David Bowie, Talking Heads, Joy Division, Elvis Costello…
The start of the school year finds him in a Dylan mood, rendering some of his best known hits in a variety of pulp genre formats:
Bob Dylan is the perfect subject for this project, because his work has always been all about quotation and repurposing. From the very beginning, he took old songs, changed the lyrics and called them his own…. And it's not just the melodies, he's also not shy about lifting phrases and whole lines from other sources. One of the fun things about being a Bob Dylan fan is being able to spot the influences. It's not just lifting lines from classic blues songs, where we don't really know who "wrote" the originals, it's real, identifiable, copyright-protected material. And you never know where it's going to come from, a book about the Yakuza from Japan, a cookbook, an old Time Magazine article, or 1940s noir pictures.
I was watching a classic Robert Mitchum noir, Out of the Past, and Mitchum is talking to someone, and they mention San Francisco, and Mitchum says "I always liked San Francisco, I was there for a party once." 
And I was like "Wait, what?" Because that's a line from a really obscure Dylan song, "Maybe Someday," off his album Knocked-Out Loaded. 
I was like "Wait, why did that line stick in Dylan's mind? Why did he decide to quote that? Is it just the way Mitchum says it? What happened there?" And suddenly a song I hadn't thought about much became a lot more interesting.
So for my Dylan covers, I try to carry on that tradition of taking quotes and repurposing them. So "Just Like a Woman" becomes a story in a science-fiction pulp, and "Like a Rolling Stone" becomes an expose on juvenile delinquency, and "Rainy Day Women" becomes a post-apocalyptic adventure story. 
In a way, it's what this project is all about, taking discarded pieces of culture and sticking them back together with new references to make them breathe again.
"Just Like a Woman"'s lyrics have never sat particularly well with feminists. ("There's no more complete catalogue of sexist slurs," author Marion Meade wrote in The New York Times.)
I think it's fair to say that Alcott's buxom flame-haired cyborg leans in to that criticism. The cover of this faux science fiction mag also harkens back to a time when the depiction of sexy female robots left something to the imagination.
From a design standpoint, it's a great illustration of the heavy lifting a single well-chosen punctuation change can do.
The magazine's title is an extra gift to Dylan fans.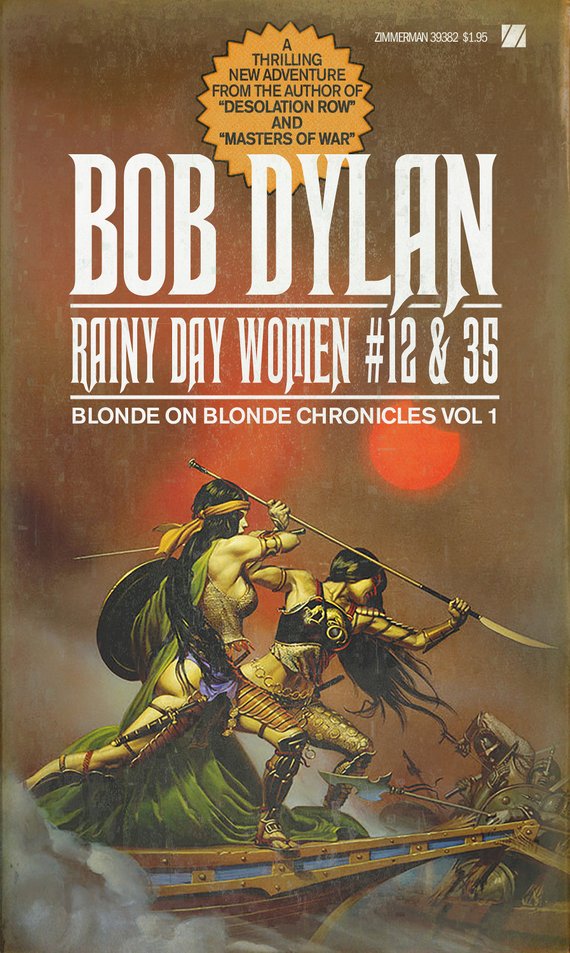 The Blonde-on-Blonde Chronicles continue with Rainy Day Women #12 & 35. Does it matter that the breast-plated, and for all practical purposes bottomless warriors are raven tressed?
Only if tongue's not firmly in cheek.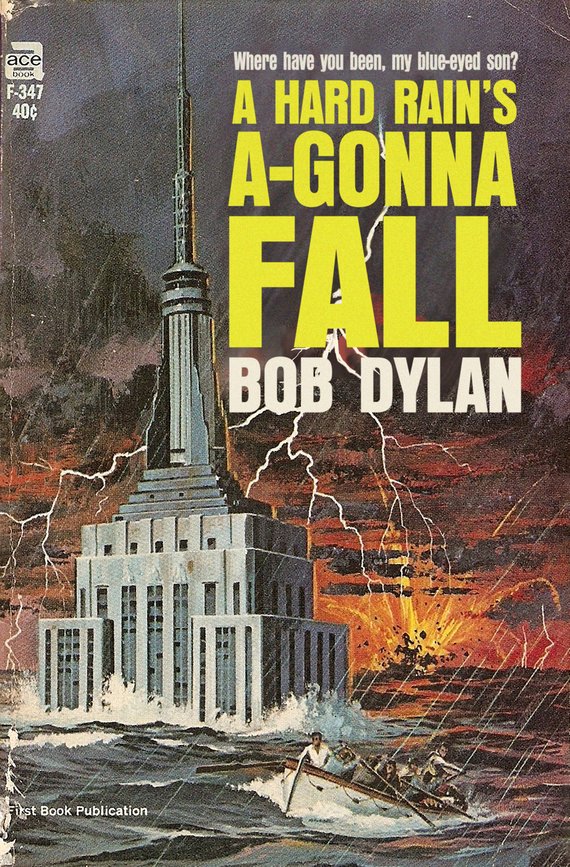 The nightmare vision of Dylan's seven-minute protest song "A Hard Rain's A-Gonna Fall" makes for a smooth transition to a disaster novel of the 1970s.
In a 1963 radio interview with author Studs Terkel, Dylan asserted that the song wasn't directly related to the nuclear fears all-pervasive at the time:
It's not the fallout rain. It isn't that at all. The hard rain's gonna fall is in the last verse…That means all the lies, you know, that people get told on their radios and in newspapers. All you have to think for a minute, you know. Trying to take people's brains away, you know. Which maybe has been done already. I hate to think it's been done. All the lies, which I consider poison.
This writer can think of another reason citizens might find themselves fighting for their lives in a rowboat level with the very tippy top of the Empire State Building. So, I suspect, can Alcott.
Or maybe we're wrong and climate change is nothing but fake news.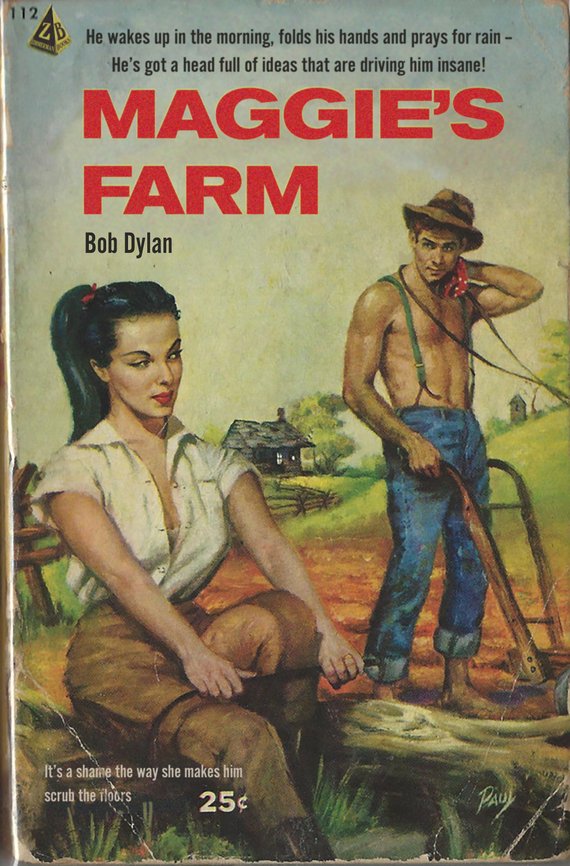 Alcott gets some mileage out of another rain-based lyric on Maggie's Farm, a steamy rural romp whose creased cover is also part and parcel of the genre.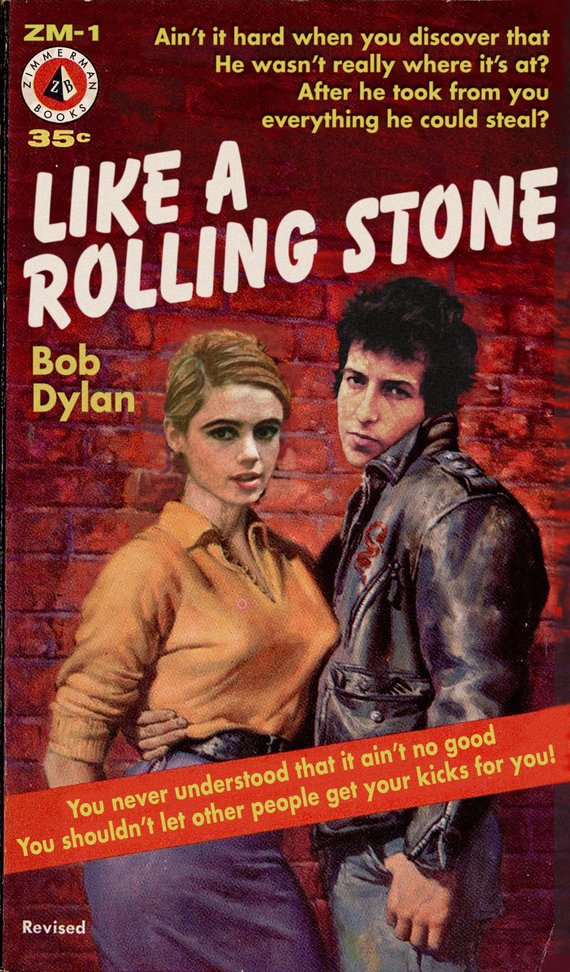 Who's that young punk on the cover of Like a Rolling Stone? Beats me, but the girl's a dead ringer for Warhol superstar, Edie Sedgwick, the purported inspiration for the song that shares the novel's name. Ms. Sedgwick's real life figure was much less voluptuous, but if the genre covers that sparked this project demonstrate anything, it's that sex sells.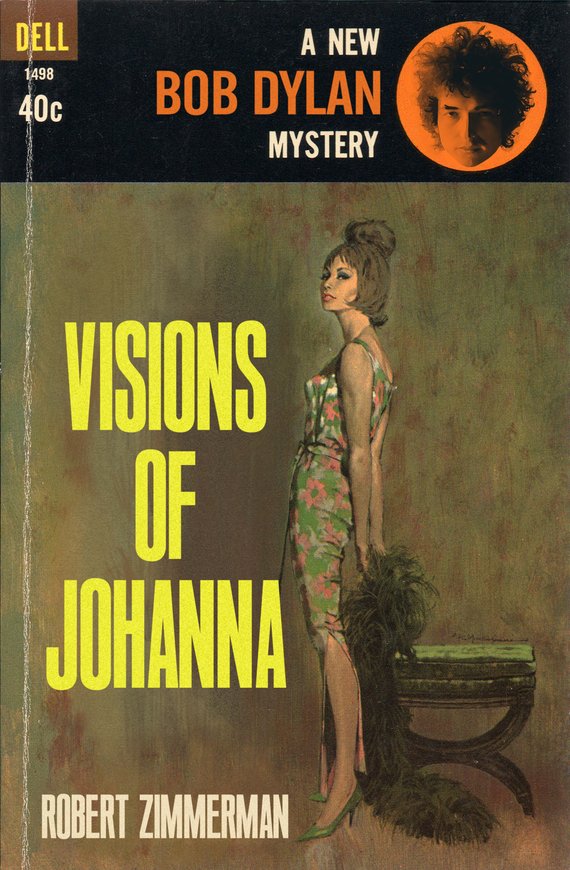 Visions of Johanna is positively understated in comparison. While many pulp authors toiled in obscurity, let us pretend that Nobel Prize winner and (faux) pulp-novelist Dylan wouldn't have. Especially if he had a series like the pseudonymous Brett Halliday's popular Mike Shayne mysteries. At that level, the cover wouldn't really need quotes.
Though what harm would there be? There's plenty of negative space here. Readers, which line would you splash across the cover if you were this prankster, Alcott?
Ain't it just like the night to play tricks when you're tryin' to be so quiet?
We sit here stranded, though we're all doin' our best to deny it
And Louise holds a handful of rain, temptin' you to defy it
Lights flicker from the opposite loft
In this room the heat pipes just cough
The country music station plays soft
But there's nothing, really nothing to turn off
Just Louise and her lover so entwined
And these visions of Johanna that conquer my mind
In the empty lot where the ladies play blindman's bluff with the key chain
And the all-night girls they whisper of escapades out on the "D" train
We can hear the night watchman click his flashlight
Ask himself if it's him or them that's really insane
Louise, she's all right, she's just near
She's delicate and seems like the mirror
But she just makes it all too concise and too clear
That Johanna's not here
The ghost of 'lectricity howls in the bones of her face
Where these visions of Johanna have now taken my place
Now, little boy lost, he takes himself so seriously
He brags of his misery, he likes to live dangerously
And when bringing her name up
He speaks of a farewell kiss to me
He's sure got a lotta gall to be so useless and all
Muttering small talk at the wall while I'm in the hall
How can I explain?
Oh, it's so hard to get on
And these visions of Johanna, they kept me up past the dawn
Inside the museums, Infinity goes up on trial
Voices echo this is what salvation must be like after a while
But Mona Lisa musta had the highway blues
You can tell by the way she smiles
See the primitive wallflower freeze
When the jelly-faced women all sneeze
Hear the one with the mustache say, "Jeeze
I can't find my knees"
Oh, jewels and binoculars hang from the head of the mule
But these visions of Johanna, they make it all seem so cruel
The peddler now speaks to the countess who's pretending to care for him
Sayin', "Name me someone that's not a parasite and I'll go out and say a prayer for him"
But like Louise always says
"Ya can't look at much, can ya man?"
As she, herself, prepares for him
And Madonna, she still has not showed
We see this empty cage now corrode
Where her cape of the stage once had flowed
The fiddler, he now steps to the road
He writes ev'rything's been returned which was owed
On the back of the fish truck that loads
While my conscience explodes
The harmonicas play the skeleton keys and the rain
And these visions of Johanna are now all that remain
O artigo: Classic Songs by Bob Dylan Re-Imagined as Pulp Fiction Book Covers: "Like a Rolling Stone," "A Hard Rain's A-Gonna Fall" & More, foi publicado @Open Culture
The post: Classic Songs by Bob Dylan Re-Imagined as Pulp Fiction Book Covers: "Like a Rolling Stone," "A Hard Rain's A-Gonna Fall" & More, appeared first @Open Culture