Langston Hughes Creates a List of His 100 Favorite Jazz Recordings: Hear 80+ of Them in a Big Playlist
26 de Junho, 2017
"Langston Hughes was never far from jazz," writes Rebecca Cross at the NEA's Art Works Blog. "He listened to it at nightclubs, collaborated with musicians from Monk to Mingus, often held readings accompanied by jazz combos, and even wrote a children's book called The First Book of Jazz." The 1955 book is a striking visual artifact, with illustrations by Cliff Roberts made to resemble jazz album covers of the period. Though written in simple prose, it has much to recommend it to adults, despite its somewhat forced—literally—upbeat tone. "The book is very patriotic," we noted in an earlier post, "a fact dictated by Hughes' recent [1953] appearance before Senator McCarthy's Subcommittee, which exonerated him on the condition that he renounce his earlier sympathies for the Communist Party and get with a patriotic program."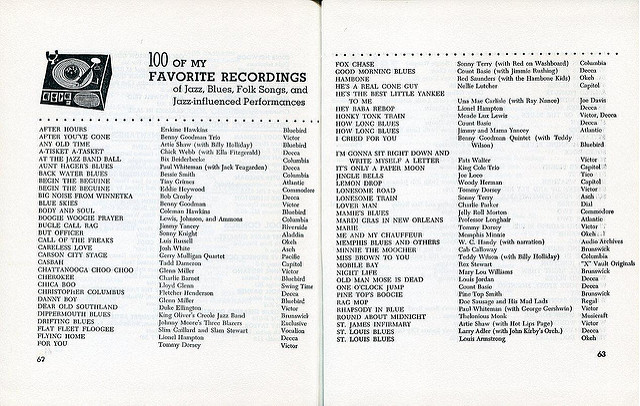 Earlier statements on music had been more candid and close to the heart: "jazz to me is one of the inherent expressions of Negro life in America," Hughes wrote in a 1926 essay, "The Negro Artist and the Racial Mountain"—"the eternal tom-tom beating in the Negro soul—the tom-tom of revolt against weariness in a white world, a world of subway trains, and work, work, work; the tom-tom of joy and laughter, and pain swallowed in a smile.
The sweet bitterness of these sentiments may lie further beneath the surface thirty years later in The First Book of Jazz, but the children's introduction to that thoroughly original African-American form made it clear. "For Hughes," as Cross writes, "jazz was a way of life," even when life was constrained by red scare repression.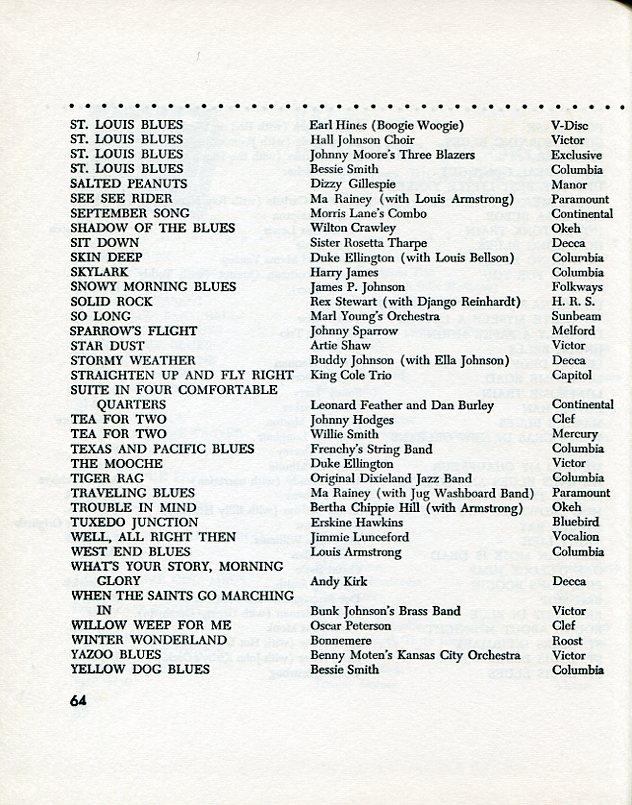 Hughes invites his readers, of all ages, to share his passion, not only through his careful history and explanations of key jazz elements, but also through a list of recommendations in an appendix: "100 of My Favorite Recordings of Jazz, Blues, Folk Songs, and Jazz-Influenced Performances." (View them in a larger format here: Page 1 – Page 2.) In the playlist below, you can hear 81 of Hughes' selections: classic New Orleans jazz from Louis Armstrong, blues from Bessie Smith, "jazz-influenced" classical from George Gershwin, bebop from Thelonious Monk, swing from Count Basie, guitar gospel from Sister Rosetta Tharpe, and much more from Sonny Terry, Tommy Dorsey, Charlie Parker, Memphis Minnie, Billie Holiday, and oh so many more artists who moved the Harlem Renaissance poet to put "jazz into words" as he wrote in "Jazz as Communication," an essay published the following year. If you need Spotify's free software, download it here.
 For Hughes, jazz was a broad category that embraced all black American music—not only the blues, ragtime, and swing but also, by the mid-fifties, rock and roll, which he believed, would "no doubt be washed back half forgotten into the sea of jazz" in years to come. But whatever the future held for jazz, Hughes had no doubt it would be "what you call pregnant," and as fertile as its past.
Considera, por favor fazer um donativo ao Artes & contextos.
Ajuda-nos a manter viva e disponível a todos esta biblioteca.
"Potential papas and mamas of tomorrow's jazz are all known," he concludes in his 1956 essay. "But THE papa and THE mama—maybe both—are anonymous. But the child will communicate. Jazz is a heartbeat—its heartbeat is yours. You will tell me about its perspectives when you get ready." Just above, see Hughes recite the poem "Weary Blues" with jazz band accompaniment in a CBC appearance from 1958.
O Artigo: Langston Hughes Creates a List of His 100 Favorite Jazz Recordings: Hear 80+ of Them in a Big Playlist, foi publicado em Open Culture
The Post: Langston Hughes Creates a List of His 100 Favorite Jazz Recordings: Hear 80+ of Them in a Big Playlist, appeared first on Open Culture
Como classificas este artigo?
Assinados por Artes & contextos, são artigos originais de outras publicações e autores, devidamente identificadas e (se existente) link para o artigo original.