Don't Look Up! Cinema's Long Pervy Tradition of Ladies on Ladders – @Flashbak
5 de Outubro, 2016
The history of cinema is full of scenes featuring girls climbing up ladders and guys ogling from below. It's a Hollywood tradition I'm proud to share with you today.
We all remember the scene in The Naked Gun where Priscilla Presley climbs up a ladder and Leslie Nielsen comments on her nice beaver. The scene is poking fun at a well-worn trope: the girl climbs up a ladder, and BOING! the guy is struck with a view up her skirt. It's comedy that Benny Hill would be proud of.
To give you an idea of just how often this scene has been played out, let's have a look at a few random examples – just the tip of the iceberg of the many, many occurrences.
 Here We Go Round the Mulberry Bush (1968)
Jamie McGregor (Barry Evans) works at the small grocery store. He's innocently stocking shelves when he rounds the corner and – BOING – runs right into his boss' legs up on a ladder.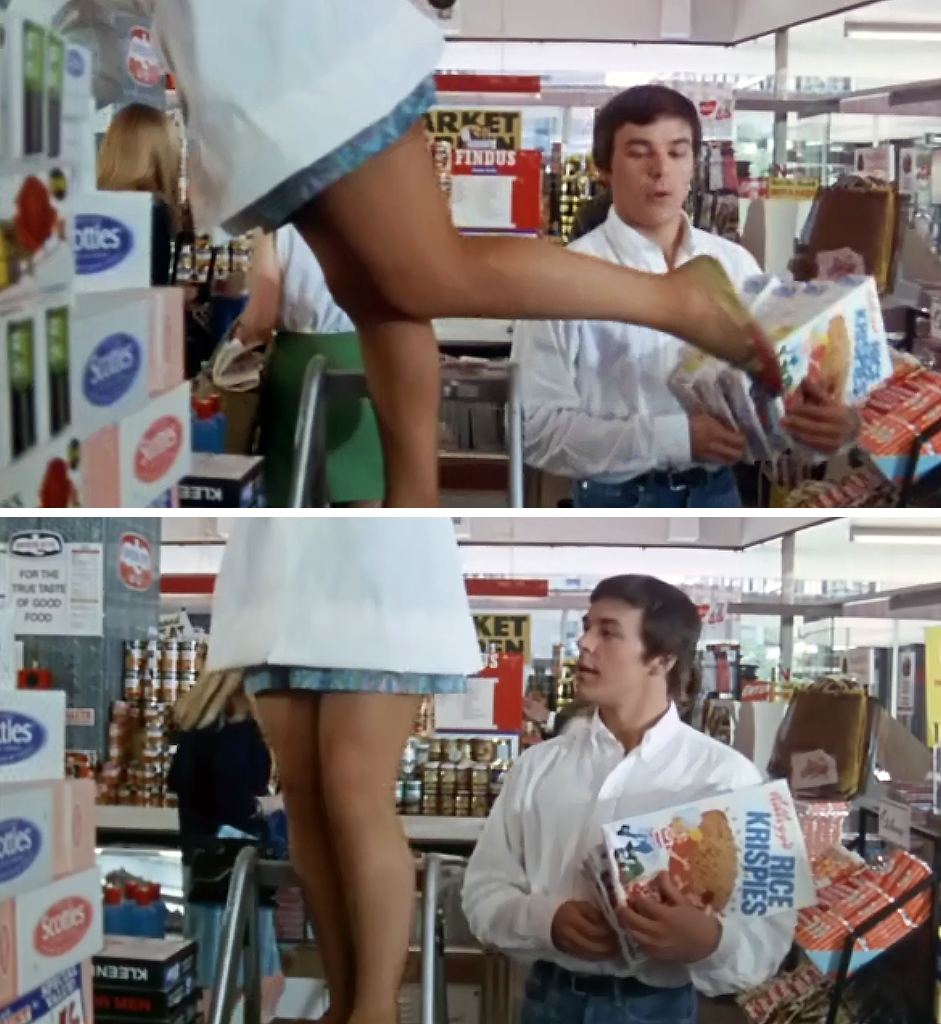 Bird on a Wire (1990)
Back when Mel Gibson wasn't a Hollywood anathema, he was a leading man looking straight up Goldie Hawn's billowing dress.  Perhaps the mother-of-all-ladder-scenes.
Au Pair Girls (1972)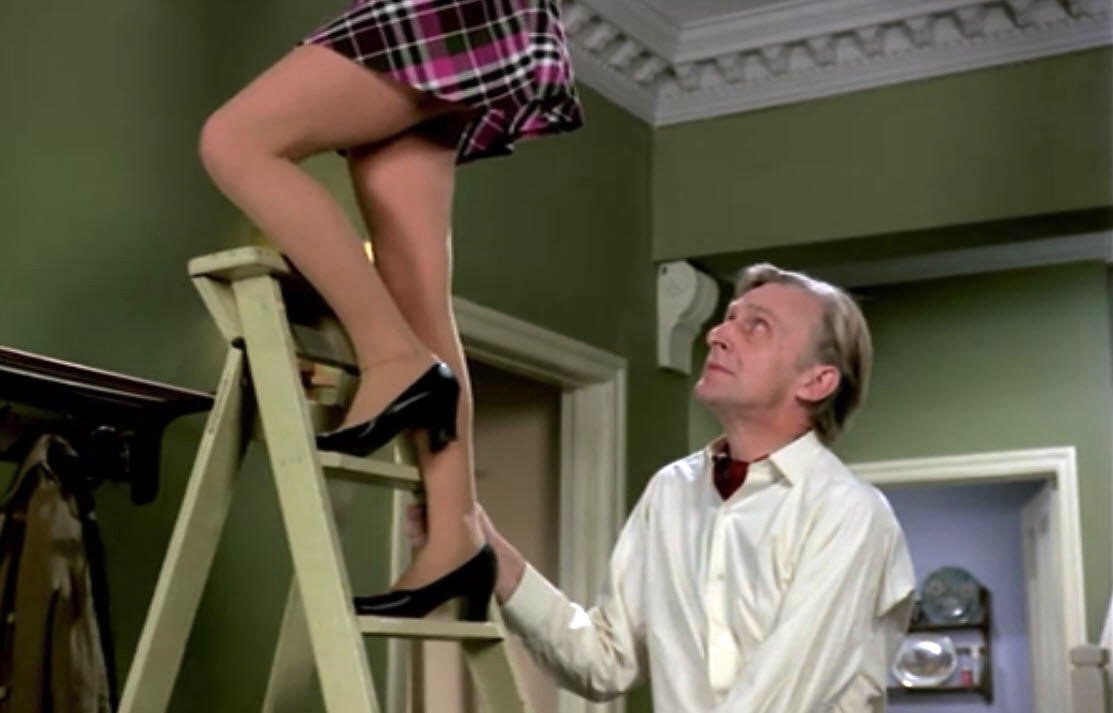 Astrid Frank climbs a ladder and her poor landlord tries to be strong, but can't help but take a peak.
Twisted Nerve (1968)
Haley Mills is an innocent librarian stalked by a shady rich boy who only gets shadier as the movie goes on.  A damn good film, actually.  The ladder scene comes when a couple lads get a look up Haley's dress as she's organizing the high shelves.  Their good time is soon busted by the film's psycho.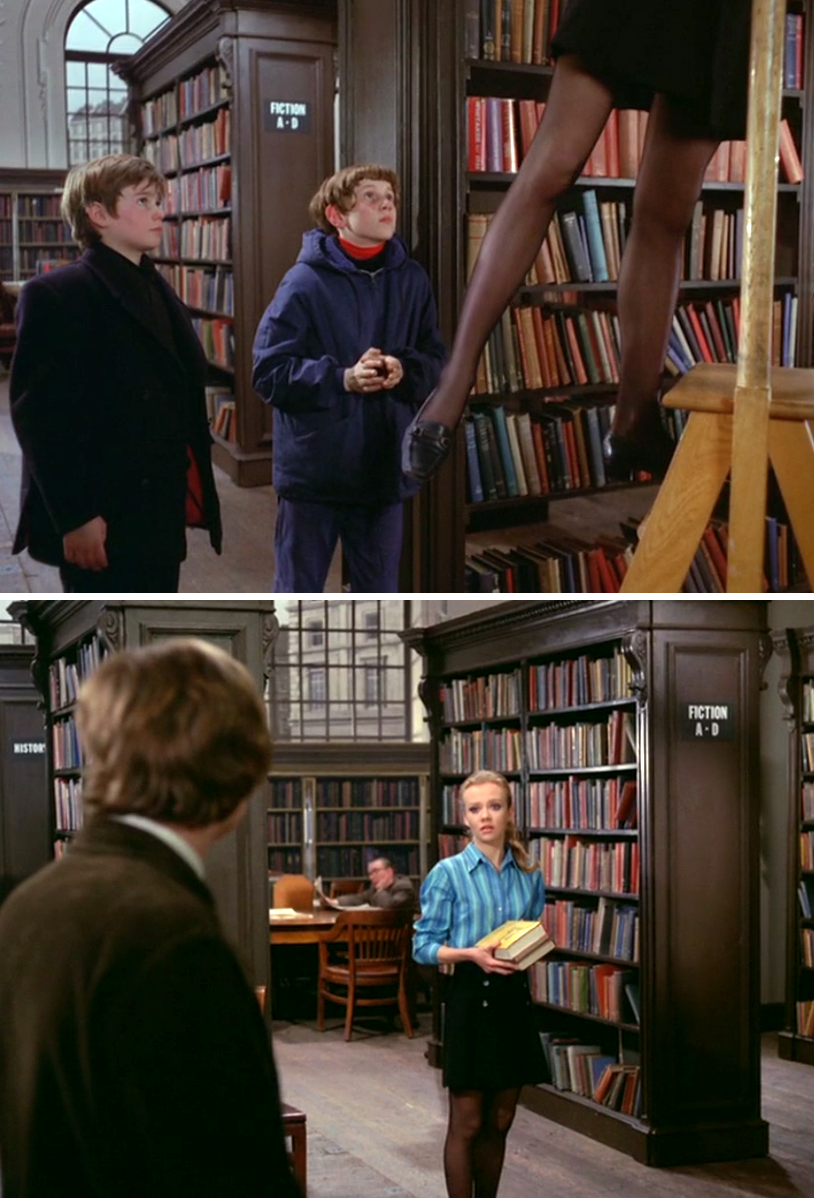 Austin Powers: International Man of Mystery (1997)
Vanessa Kensington in a futuristic silver mini escapes Dr. Evil's underground lair… via ladder of course.  Sadly, we don't get to see Austin's view from below, but we do get to see his dazed expression.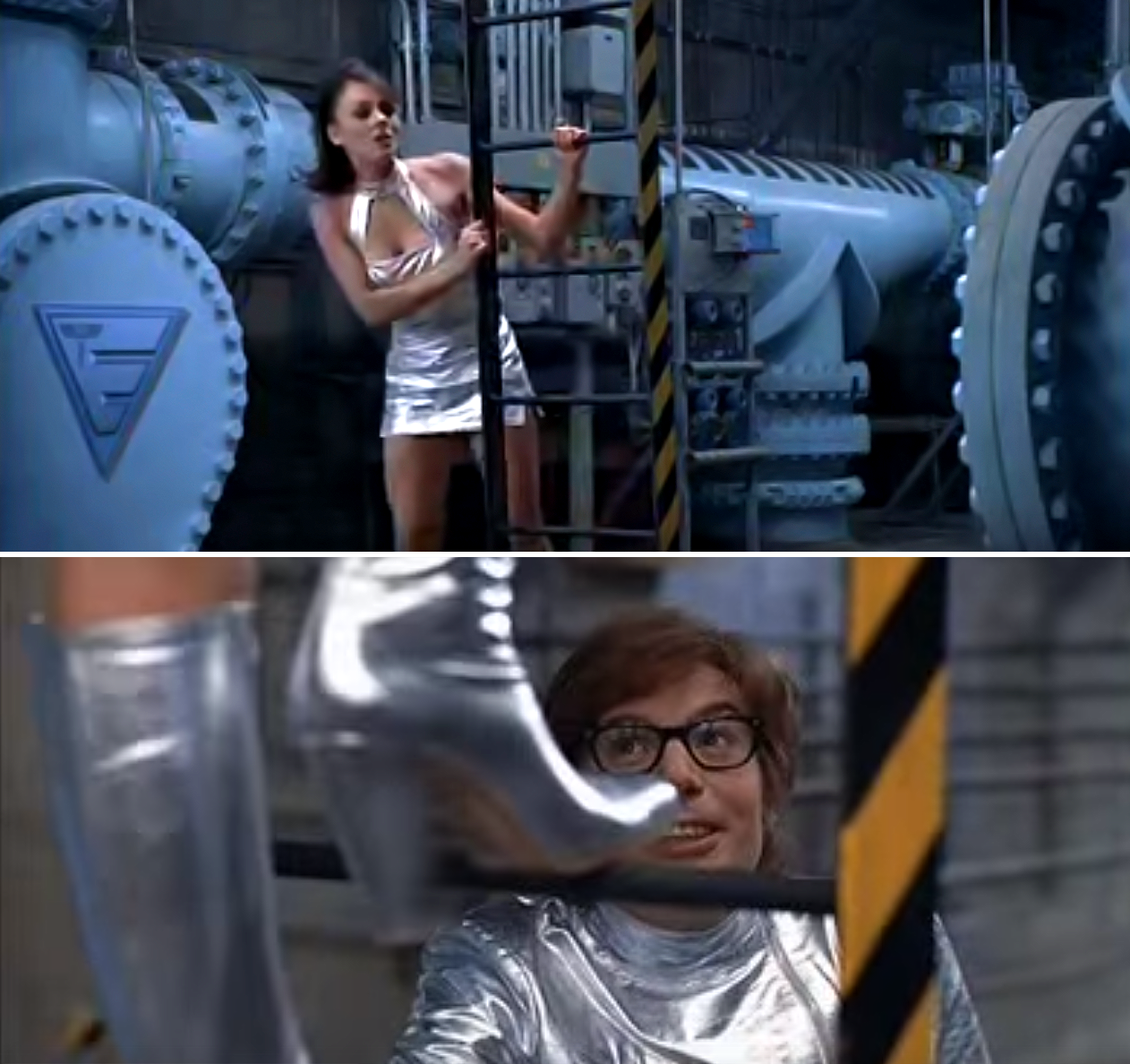 The Rise and Rise of Michael Rimmer (1970)
The movie opens with Valerie Leon climbing to grab some out-of-reach files. A classic.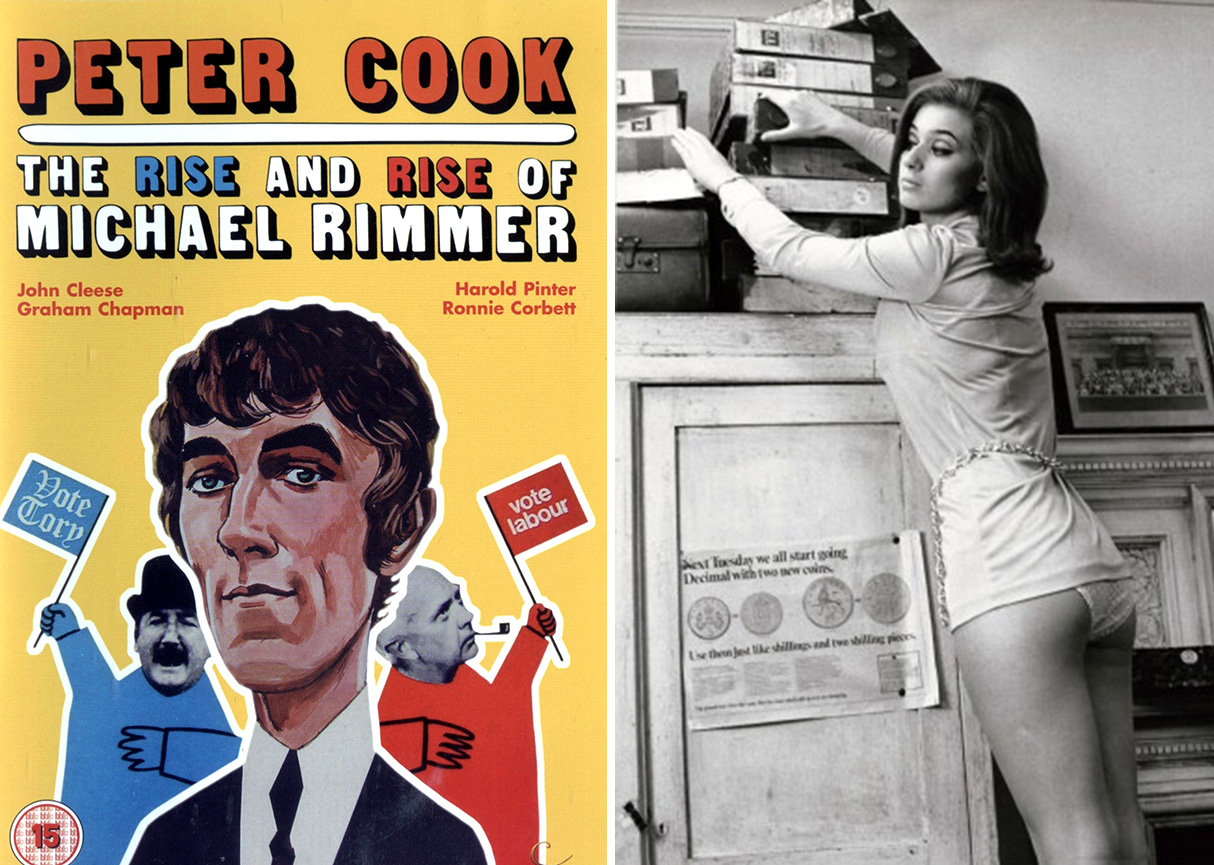 The Lickerish Quartet (1970)
Silvana Venturelli delivers the high water mark for pervy ladder scenes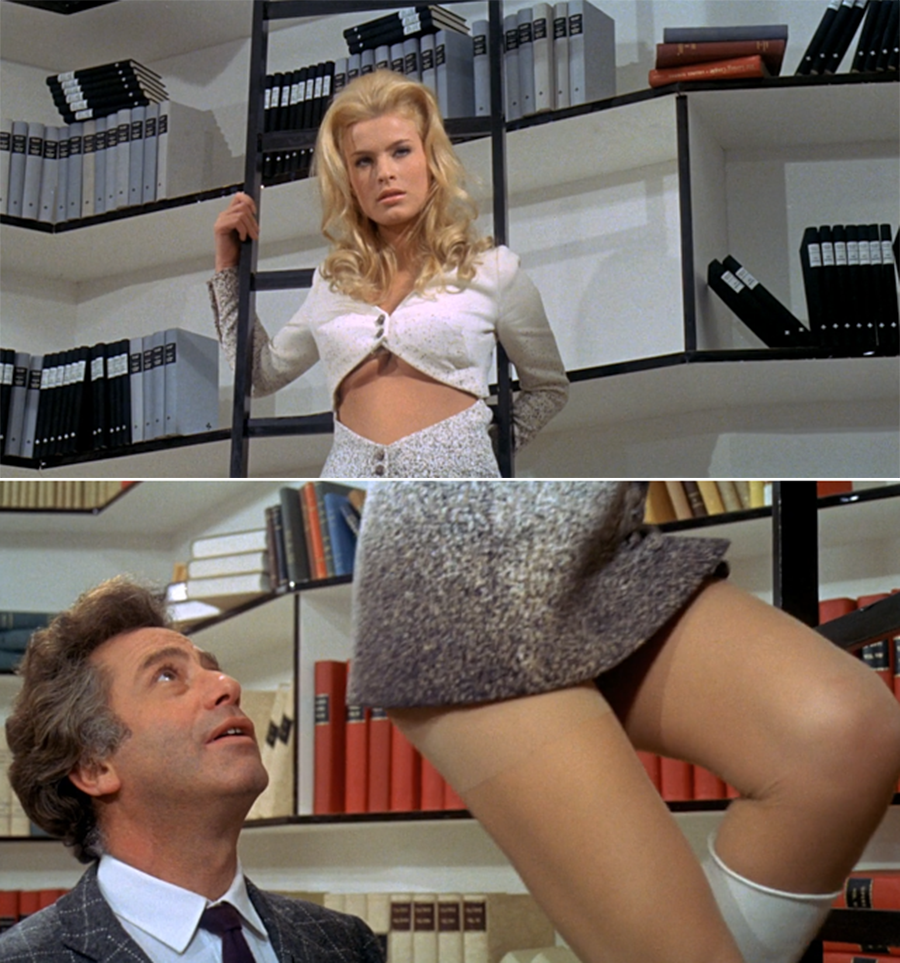 Voyage to the Bottom of the Sea (1961)
Barbara Eden goes down the hatch; the seamen pretend not to notice, but we know better.
La machine à découdre (1986)
Patricia Barzyk provides a landmark moment in ladder scenes- not only does she have nothing underneath, but the scene seems to last forever.  The camera ogles her from underneath at seemingly every rung.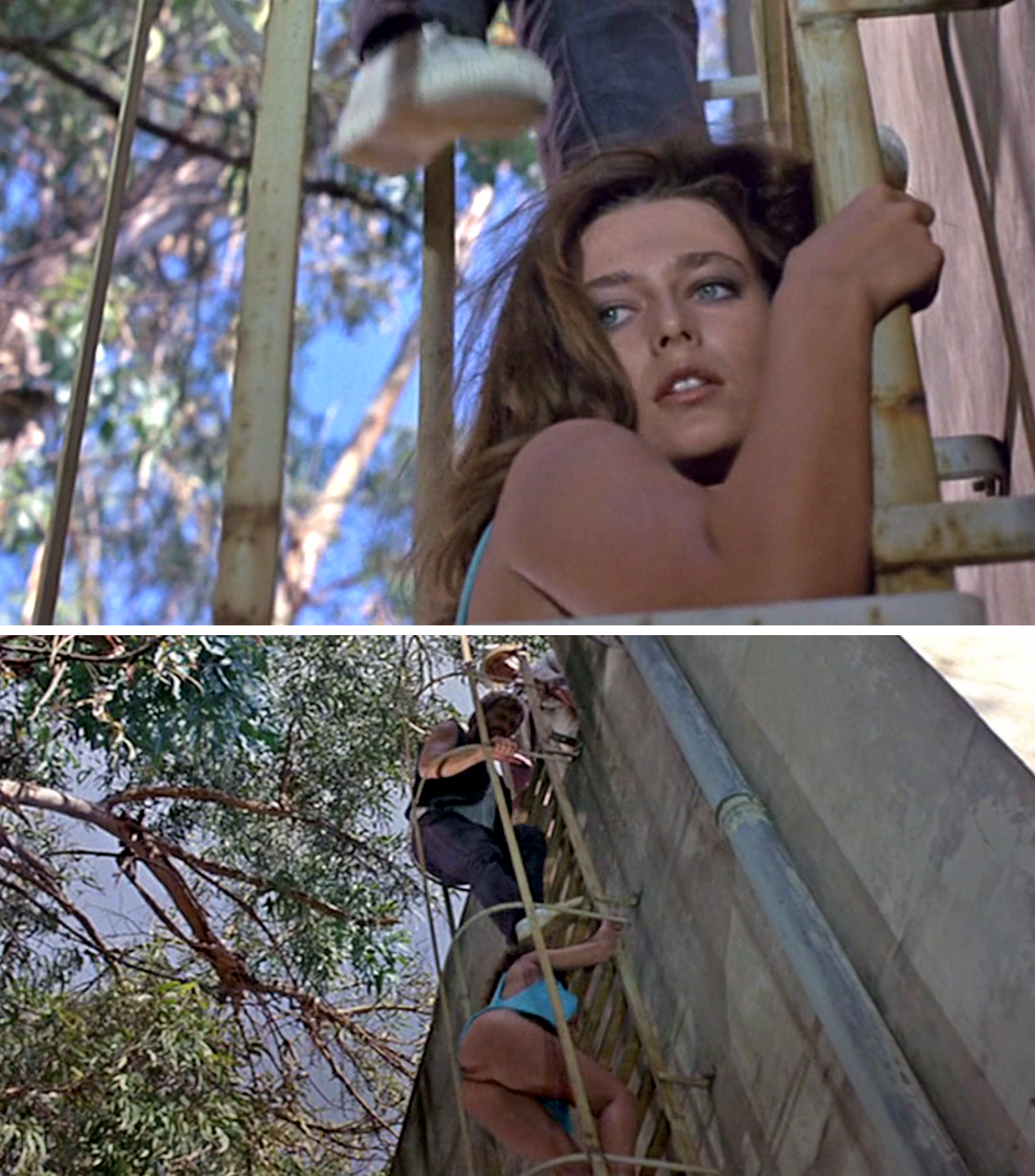 What Do You Say to a Naked Lady (1970)
In this Candid Camera movie starring my main man, Alan Funt at his perviest. In this segment, we have a girl climbing a ladder in a miniskirt while Funt films the various guys' reactions. Do they look up? Or do they let her keep her modesty and look down?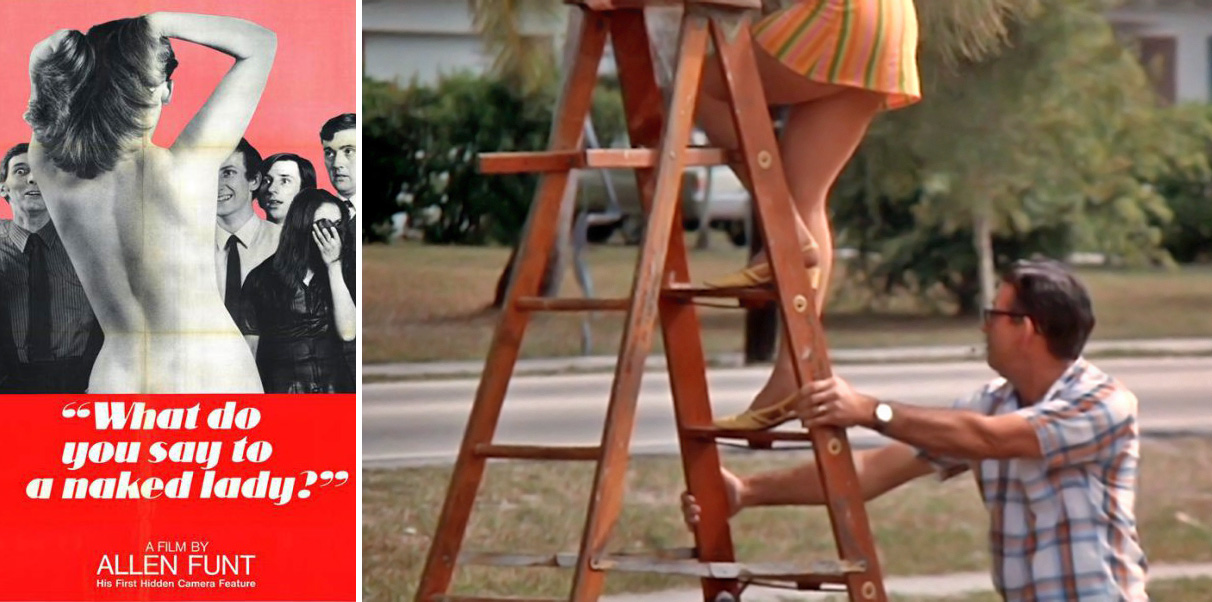 Coma (1978)
Geneviève Bujold gets to the bottom of the nefarious goings-on at her hospital -but not before she has to get to the top of a really long ladder.  What is otherwise a pretty respectable film, does spend an inordinate amount of time ogling Bujod's climb.  I'm sure it was necessary for the plot.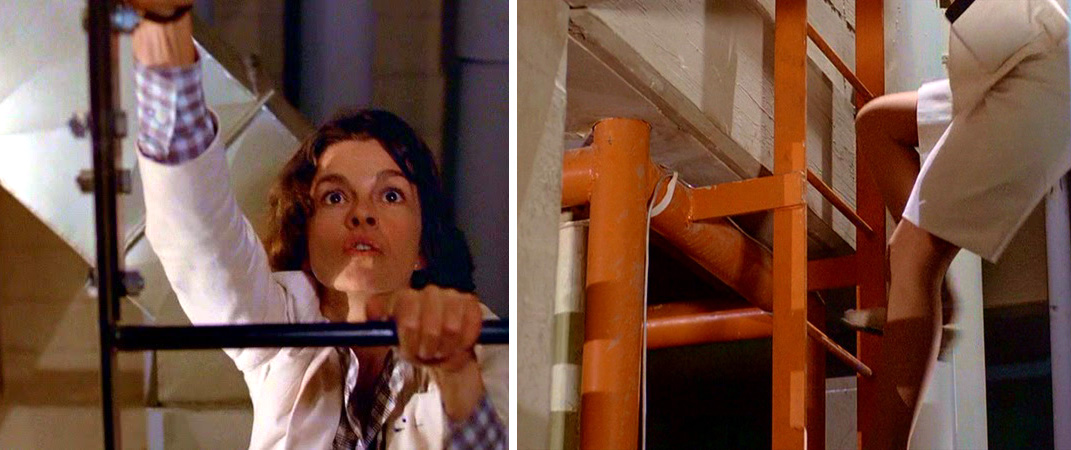 In the Devil's Garden (1971)
In this excellent murder mystery we have the prime suspect, the creepy husband of the head-mistress, only too happy to lend the girl students a helping hand on the stepladder.
Considera, por favor fazer um donativo ao Artes & contextos.
Ajuda-nos a manter viva e disponível a todos esta biblioteca.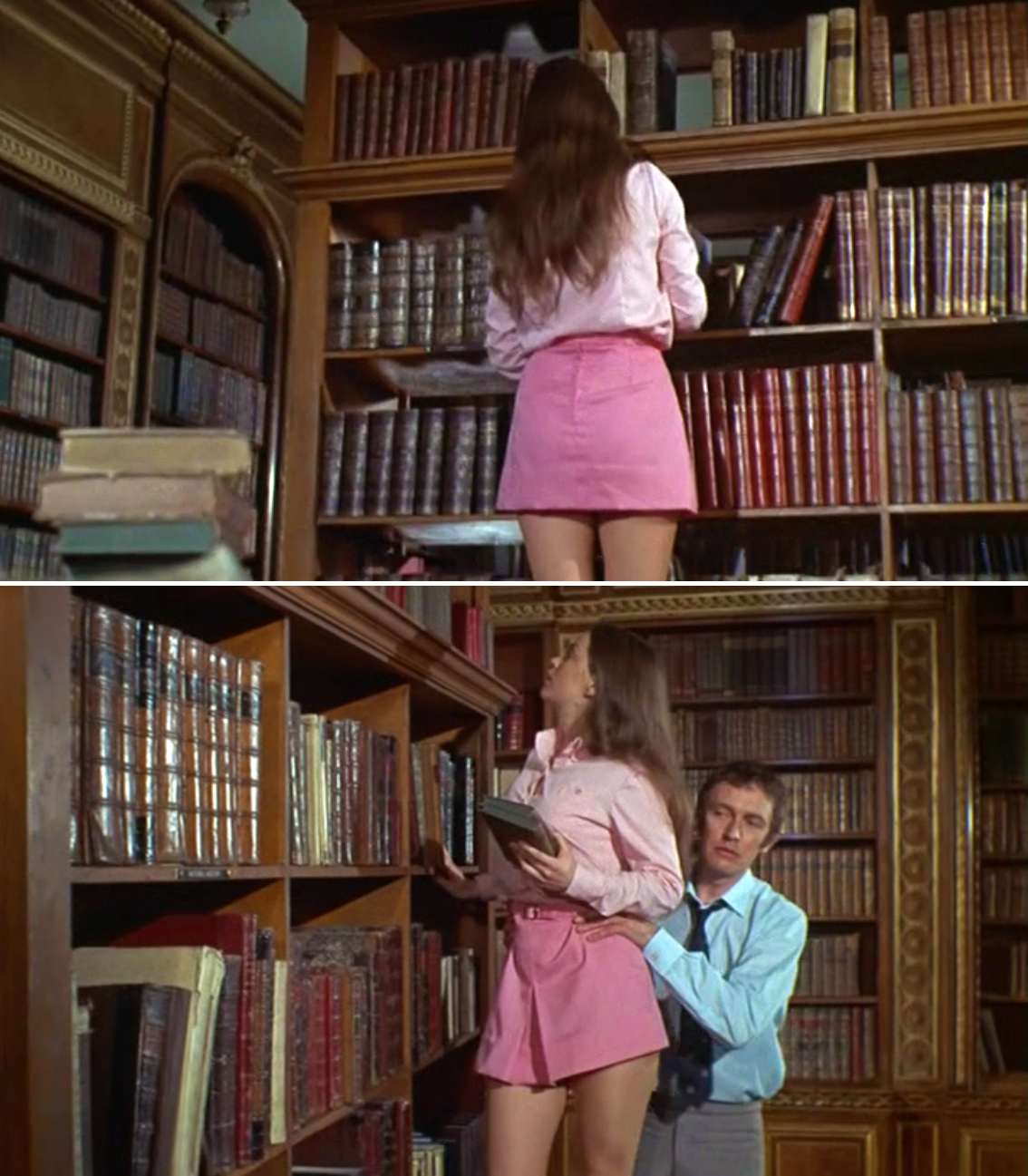 Of course, we could go on and on, but I think you get the picture.  If there are any glaring omissions, please leave them in a comment below.  Cheers!
O Artigo: Don't Look Up! Cinema's Long Pervy Tradition of Ladies on Ladders, foi publicado em Flashbak
The Post: Don't Look Up! Cinema's Long Pervy Tradition of Ladies on Ladders, appeared first on Flashbak
Como classificas este artigo?
Assinados por Artes & contextos, são artigos originais de outras publicações e autores, devidamente identificadas e (se existente) link para o artigo original.