Pablo Picasso Paints On Glass (1949) – @Flashbak
21 de Agosto, 2016
Pablo Picasso (October 25, 1881–April 8, 1973) was filmed at his studio in Vallauris for the award-winning 1949 short movie Visite à Picasso (A Visit with Picasso). For one scene Belgian artist, historian and filmmaker Paul Haesaerts (15 February 1901 – 31 January 1974) invited Picasso to paint on a sheet of Plexiglass positioned between the artist and the camera, giving the viewer a canvas-eye view of the man who came to embody modern art. He paints a bird, animals, a naked woman and a vase of flowers in thick lines. The transparent canvas creates the impression of art flowing in the air.
The trick was revisited in The Mystery of Picasso (1956) by Henri-Georges Clouzot in which Picasso paints on transparent canvases.
Picasso was a willing subject. He understood the value of celebrity, telling Hungarian photographer Brassaï in a letter dated May 3, 1944 (via):
"Well, success is an important thing! It's often been said that an artist ought to work for himself, for the "love of art," that he ought to have contempt for success. Untrue! An artist needs success. And not only to live off it, but especially to produce his body of work. Even a rich painter has to have success. Few people understand anything about art, and not everyone is sensitive to painting. Most judge the world of art by success. Why, then,leave success to "best-selling painters"? Every generation has its own. But where is it written that success must always go to those who cater to the public's taste? For myself, I wanted to prove that you can have success in spite of everyone, without compromise. Do you know what? It's the success I had when I was young that became my wall of protection. The blue period, the rose period, they were screens that shielded me…

"Don't price them too high. What matters is that you sell a large number of them. Your drawings must go out into the world."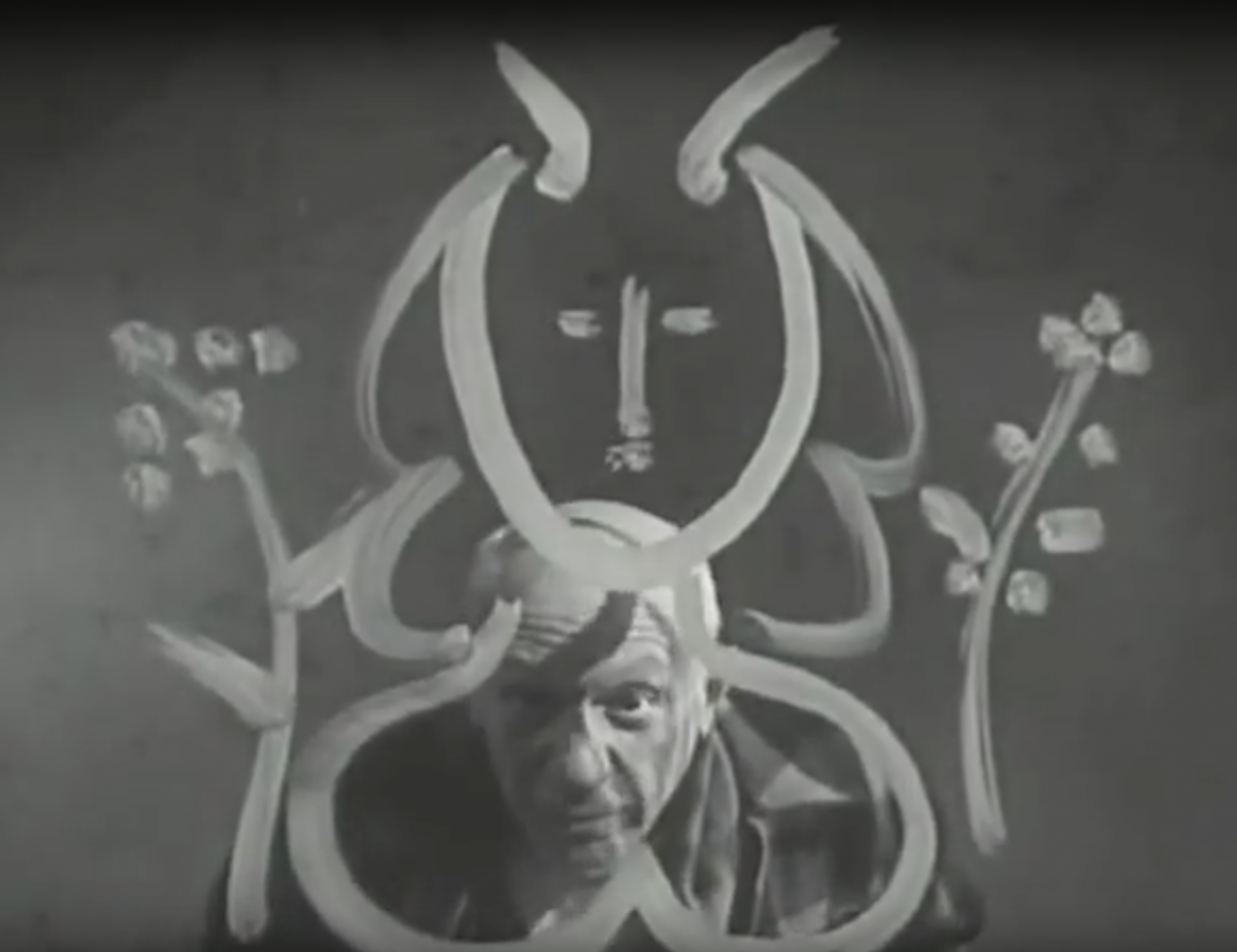 As for the painting on glass, do we gain an insight into Picasso's creative thinking by seeing him this way? Does Haesaerts answer the question, "How does he do it?" "To know what you're going to draw, you have to begin drawing," said Picasso. To make art is to do something.
"Ideas are simply starting points. I can rarely set them down as they come to my mind. As soon as I start to work, others well up in my pen. To know what you're going to draw, you have to begin drawing… When I find myself facing a blank page, that's always going through my head. What I capture in spite of myself interests me more than my own ideas."
The full film can be watched below:
Considera, por favor fazer um donativo ao Artes & contextos.
Ajuda-nos a manter viva e disponível a todos esta biblioteca.
O Artigo: Pablo Picasso Paints On Glass (1949), foi publicado em Flashbak
The Post: Pablo Picasso Paints On Glass (1949), appeared first on Flashbak
Como classificas este artigo?
Assinados por Artes & contextos, são artigos originais de outras publicações e autores, devidamente identificadas e (se existente) link para o artigo original.