Erkyah Badu & Miles Davis Revisit a 1974 Classic with Robert Glasper (Audio)
19 de maio, 2016
Fonte: AFH Ambrosia for Heads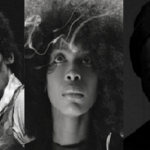 September will mark the 25th anniversary of the passing of Miles Davis, a musical icon whose penchant for reinvention made him as important an inventor as Henry Ford or George Washington Carver, or any other lionized American ingenue. Much of his discography – which spans into decades past his 1991 death – has taken on a sense of reinvention in and of itself, thanks to the work of Robert Glasper and the host of talented artists who have contributed to the soundtrack for Miles Ahead, the Don Cheadle-directed biopic examining the later life of Davis. Next up for Glasper is the forthcoming Everything's Beautiful, a collaborative project with the very-much alive legacy of Miles Davis, slated for release on May 27, and today he premiered an Erykah Badu-buoyed single that does what Davis did so well: innovation.
"Maiysha (So Long)" revisits Davis' 1974 song "Maiysha," featured on the double LP Get Up with It, his final studio release before a lengthy hiatus from recording. Today's version interpolates Davis' wah-wah-assisted electric trumpet and organ playing with Badu's vocals and Glasper's seemingly endless talent as a composer and arranger. According to Rolling Stone, Glasper says of the remix that it "came about naturally after he and [Badu] began exchanging ideas," and the song seemed to fall into place.
Everything's Beautiful also features Stevie Wonder, Phonte, Bilal, Illa J, and many others.
O artigo: Erkyah Badu & Miles Davis Revisit a 1974 Classic with Robert Glasper (Audio), foi publicado em: AFH Ambrosia for Heads
The post: Erkyah Badu & Miles Davis Revisit a 1974 Classic with Robert Glasper (Audio), was published at: AFH Ambrosia for Heads
Assinados por Artes & contextos, são artigos originais de outras publicações e autores, devidamente identificadas e (se existente) link para o artigo original.